How to turn Brexit into a sales opportunity and create urgency to fast track decisions to proceed
05 September 2016
Great sales people see challenges as sales opportunities. We share with you some positive facts and sales tips on how you can sell more with Brexit.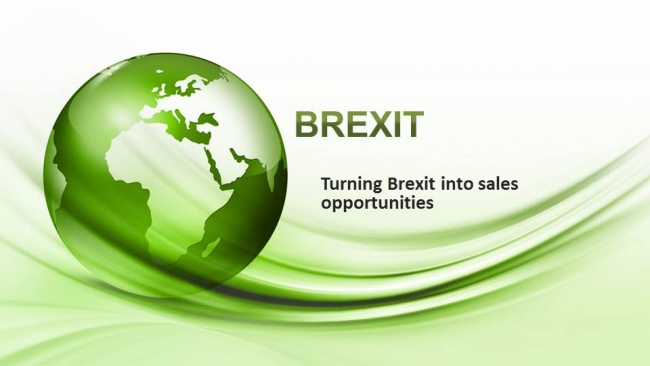 Based on recent results and polls Brexit has had a positive impact on UK's businesses.The world was shocked by the decision to exit the EU on 23rd June 2016.There was a mix of excitement, uncertainty and fear when the results were announced. As Theresa May said 'Brexit means Brexit' and we now need to turn the situation into a positive and assess how we can turn this into sales opportunities.
In a recent survey by the BBC it stated that 2/3rds of adults were positive about Brexit. The stock markets rallied and within a week of the results the FTSE 100 had the best week since December 2011. Last week the PMI index hit 53.3 in August compared to 48.2 in July. This was the highest month on month rise in the PMI's history. (CIPS UK Manufacturing Purchasing Managers Index). Brexit has boosted export orders due the lower cost to buy British goods due to the weak pound. More people are staying in the UK for their holidays due to the higher cost of going abroad and this has also attracted more visitors from abroad coming to Britain due to the increase in spending power. Philip Hammond has confirmed EU funding will be given beyond the date the UK leaves the EU.
All of the above are reasons to be positive. Companies who do not export and who import some of their products, services or solutions from abroad will see an increase in their procurement costs and prices may need to rise or profits could decline.
So how can you use this to your advantage when selling?
If your organisation exports goods then you can encourage your clients to buy now while the pound is weak if they want to benefit from the most advantageous pricing. Who knows when the pound will strengthen? With this uncertainty you can create an urgency for action to make a decision, place an order and place future orders early to avoid losing out when the pound improves.

If your organisation sources the majority of its services, products and materials from the UK and your competitors source from abroad then this should give you a price advantage over them. They will either increase their pricing to allow for this or erode their profits.

If your organisation sells to clients who need or use EU funding then you can refer to the statement by Philip Hammond which confirms EU funding will still be provided. The Government is urging businesses to still keep applying for EU funding.However we recommend you look into this to find out if there are any restrictions. We all know Government policies can change so you want to advise your clients to take the opportunity now in case the Government changes their pledge or if the funding they promise becomes restricted to certain projects. This could easily happen so it is best to make the most of this pledge now as we are still unsure when Article 50 will commence and what funding will be given. More information click here

Should your organisation import some products, services or solutions then your organisation may need to increase their pricing to accommodate for the higher cost to buy from abroad due to the weak pound. You can use this as a reason for people to buy now before or in case the prices are increased.
Do your research and see how you can sell using Brexit as a hook to create sales opportunities and get quicker decisions for proposals, quotes and bids.
We provide a wide range of sales training courses which provide more insight and techniques on how you build business credibility, rapport and sales through researched knowledge. All of our courses are endorsed by the ISMM. Our Advanced Sales Training Course includes training on how to build business rapport using facts such as Brexit to set yourself apart from your competition and win more business.
For more sales tips,management ideas and inspiration refer to our free resources page

For details of our wide range of courses for Sales, Management and Customer Services

This article is written by Debbie Sweeney, lead sales trainer and course designer at Solutions2Success.