5 management tips to help you retain and motivate sales people
09 February 2017
These 5 Management tips will help you gain the most from your top performers, keep them motivated and loyal. This blog is based on my 18 years in sales and what really motivated me and what motivated other top sales performers. Whilst this article is aimed at motivating and managing sales people a lot of the principles can be applied to the management of people in different roles.
What is the definition of a super hero? My definition of a super hero is a sales professional that consistently exceeds their sales target, goes the extra mile and is committed, willing to learn, adapt and take on a challenge. There are not many sales super heroes out there so when you recruit and manage them you want to keep them.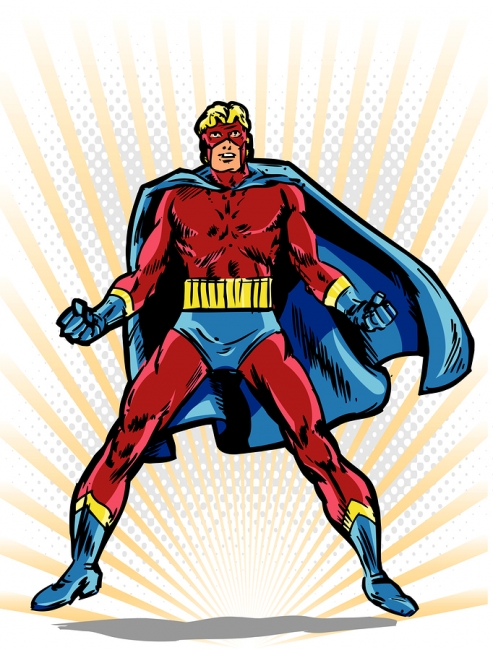 1) 'I want you right now!'
Top performing sales people are usually very independent. They do not call you unless they need something and usually it is because they want to close a sale and they need your support or authority to do it. So, when they call or email you make them your number one priority and make them feel like that very important person, because they are.
2) Deal with the 'lightweights' in your sales team
If you want to motivate top sales people and improve the overall sales team's success, then you cannot carry the 'lightweights' in your sales team. Provide sufficient professional sales training so you can assess if it is skill or attitude related, this is also the most professional HR procedure to follow. Having provided sufficient sales training courses and sales coaching and you still do not see an improvement then you need to address the issue. Using an external sales training provider also helps you from a disciplinary procedure perspective as you can evidence the training they have been given. This also gives you an independent view, sometimes your personal feelings can get in the way of your logical thoughts so someone removed emotionally can help you assess the situation easily and fairly. Sometimes a long serving sales person may want a change of direction so you can move them to another role so you can still keep your loyal sales people. Failure to address the issue adds more pressure to your top sales performers to make up the shortfall and you will demotivate your top performers. Not only will they step down a gear or two if they feel like it they will start to dis respect their Sales Manager and resent the lightweight sales person.
3) Make them feel special and valued
Everyone is driven by different things, this also depends what stage you are at in your life. I remember when I was younger I was driven by the flashing £££ signs, nice car and fun social life that came from working in a large and successful sales team when I worked at Yellow Pages and Orange. Even in my 20's I realised other things made me motivated and as I moved into my 30's those other things became an even bigger driving force to my motivation to exceed sales targets and take on additional tasks. Recognition, appreciation, feeling valued, contributing to the success of other projects outside of the sales role kept me motivated. The Sales Managers that did this with me always gained the maximum sales results from me. I would support them with new starters, manage the team in their absence and support them when they needed to implement a new idea or change. We are all human and how people make us feel influences our behaviours, actions and levels of happiness. If you love your job, company and respect who you work for then this comes across when you are selling and you naturally put more effort in. Sales super heroes need some love!
4) Be flexible
Is it fair that one sales person is given a special privilege and another sales person doesn't? Absolutely! Only if the person receiving the special privilege is a top performer and the other sales person is not. Providing you can justify your reasoning and it is based on sales performance and facts and not favouritism then it should be something sales people aspire to. As a Manager, I had no problem justifying what I had done for Super Heroes and offering special privileges and being flexible with Super Heroes because they deserve it and it can be the one thing that stops them leaving when they are offered a higher salary elsewhere. For example, when I worked at Yellow Pages I negotiated a 4 day week on the same salary and commission as a 5 day week because I had to stay away from home 4 months more than the rest of the team because of where I lived. This was agreed by my Sales Manager on the basis I hit my quarterly basis and I worked 5 days on my home patch. As this was so important to me I worked exceptionally hard for 4 days and regularly won top quarterly (canvas/patch) targets because I was given this wonderful level of flexibility. I also had another top performing friend who enjoyed a similar benefit and her sales performance was also always the best. Sometimes time off is a big motivator, we all need to re charge. It does not mean that we perform less in fact this proves your top sales performers can work smarter and improve their sales performance.
5 Don't assume
Just because your sales super heroes are consistently exceeding their sales targets it does not mean that is their capability limit, there is no limit to Super Heroes. Provide your sales superstars the same training and development as everyone else. Advise Super Heroes this will be an opportunity for them to shine in front of their peers, it will also help them understand specifically why they win business so they can focus on doing more of what works well. Even Super Heroes will learn something new and that small change could make a big difference, we all develop bad habits so sales training courses help avoid getting into a compliancy trap which can then negatively impact sales performance. Also give them the option to attend other courses as part of their progression to other promotional roles in the future. Understand their aspirations and put together a training plan to help them work towards it, even if a role is not available at least prepare them for it. At some point you must say goodbye to your star performers so it is better for them to stay with your company than to go to your competitors so help them on their career pathing journey to keep them motivated.
In summary if you want to enhance sales performance, retain and attract top sales performers then look beyond the salary and commission package. Top sales performers want to be challenged, developed, appreciated and valued. One thing you can be sure of with sales super heroes is they will resign without warning because they can and they do because everyone wants them. Follow the above 5 tips to help you get the most from your sales stars and keep them consistently setting the bar for others to follow so your sales team's results are always exceeding sales targets.
For details of our wide range of Sales and Sales Management Courses see our courses page. We specialise in open courses in the North West of England and customised training programmes Nationwide.
Read our other blogs for more tips and inspiration to gain top sales performance and motivate your sales people.
This article has been written by Debbie Sweeney, lead Sales trainer at Solutions2Success. Debbie has won numerous National sales awards and had a high performance sales track record spanning 18 years. Contact Debbie for advice about training programmes to support your sales team achieve consistent top sales performance.
Connect to Debbie's LinkedIn for more updates and tips.
Want more sales tips and advice? Visit our free resources section

Thanks for sharing this with your network, let's look after our Super Heroes!