How Can You Develop an Effective Onboarding Strategy for New Sales and Business Development People (infographic and self-analysis questionnaire)
18 August 2021
Most companies will spend between £4,000-£6,000 to recruit a sales graduate, with an average starting salary of £23,000- £25,000 if they use a recruitment company to source candidates. Having made this investment, you want to ensure you see the value and gain a return on investment.
An effective and long-term onboarding and sales training programme will help ensure your new sales recruits go from zero to hero in record time.
This infographic provides the latest industry stats on the value and benefits of implementing formal, professional and well-structured sales training programmes and onboarding processes.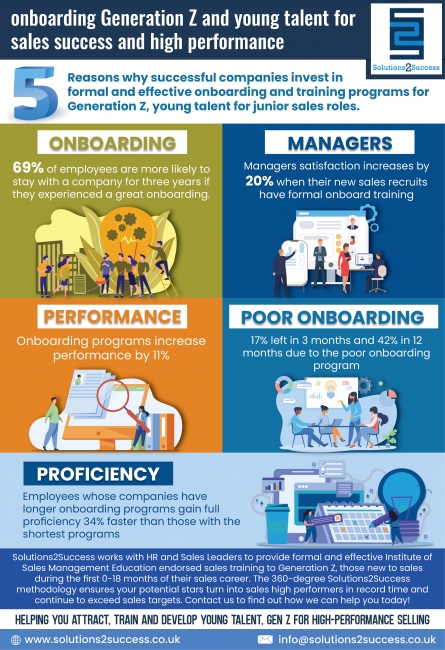 A quick checklist to assess your current training and onboarding process:
Do you sell your sales training and onboarding programmes when interviewing candidates?
How do you sell your training to candidates, so they choose you above another company?
How are you managing your onboarding and sales training programme?
Who is delivering this?
What is their professional training experience?
How often are managers tied up in the process, and could their time be used more effectively?
Have you considered setting up or utilising an endorsed Sales Training Academy?
What KPIs do you have in place, and how do you measure the success of your onboarding and sales training programs?
Generation Z will choose a company that will help them grow and build their personal brand. Endorsed training will give you an advantage.
If you want to attract and retain the best Generation Z sales graduate talent for business development or sales roles, then contact us to find out how we can help you set up your onboarding plan, training and promote your Institute of Sales Management endorsed sales academy.
Having a wealth of experience training sales graduates over the past thirteen years and with our own Gen ZY sales academy, we can help you. Whether you have one individual or a team, we can help you ensure you take your new sales recruits from zero to hero in record time whilst attracting top talent.
To gain some quick win-ideas, review your current processes and sales training programs or find out more, contact us for a free consultation.
To find out how you can ensure you attract, develop and retain top talent schedule a call with us for a FREE consultation and useful industry insights.
Click here to schedule a call in your calendar
Check out the wide range of services and online sales training courses and graduate training programs provided by Genzy Talent Academy, which specialise in training young talent for junior sales roles and fast-tracking their success.
Click the below to find out more:

For courses for new and seasoned salespeople click the below: