How To Attract The Best Gen Z Graduate Talent For Your Company (infographic and self-analysis questionnaire)
18 August 2021
32% of the global population is Generation Z, so we must understand what attracts them to work for an employer to gain the best talent.
Generation Z are in the graduate age group, also known as iGen or Net Gen. They are entering the workforce bright-eyed and bushy-tailed whilst having a naivety in some cases about the transition from education to the commercial world. They are hungry to learn, adapt, embrace challenges and change when given the right environment, training and support to grow to their true potential.
When you consider the high cost of a bad hire, you want to ensure you recruit the best talent. To do this, you want choice and candidates eager to work for you when they compare you against other managers and organisations.
This infographic provides the latest industry trends to attract and retain the best Generation Z sales talent for graduate business development roles. These same trends are important to recruiting Generation Z for all roles.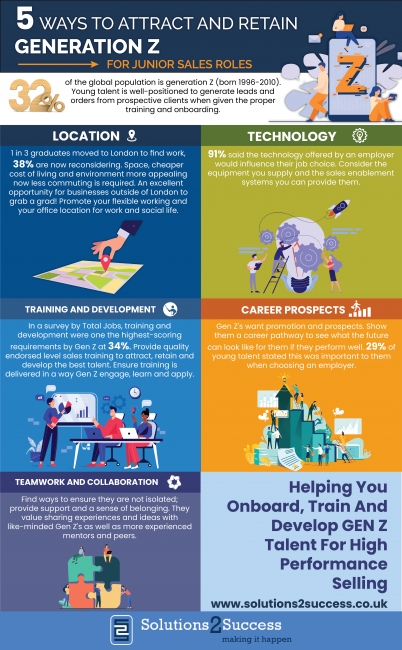 A quick self-analysis to help Leaders and Managers:
What Sales Enablement tools do you have in place to aid highly effective business development activities?
What technology do you have in place to support their role and the sales process?
What social media and brand presence do you have?
How flexible are you with working location, hours of work, dress code and environment?
How aligned is your company culture to the needs of Generation Z?
What onboarding, training and development programs do you have in place to realise their true potential?
How does your training adapt to Gen Z's desire to have the ability to learn in their own time with online sales training programs?
How can a Gen Z recruit progress to promoted roles, and how do you aid this progression?
If you want to attract and retain the best Generation Z sales graduate talent for business development or sales roles, then contact us to find out how we can help you set up your onboarding plan, graduate sales training programs and promote your Institute of Sales Management endorsed sales academy.
Having a wealth of experience training sales graduates over the past thirteen years and with our own Gen ZY sales academy, we can help you. Whether you have one individual or a team, we can help you ensure you take your new sales recruits from zero to hero in record time whilst attracting top talent.
To gain some quick win-ideas, contact us for a free consultation to review your current processes, business development training programs, graduate training courses or find out more. We are always happy to be a soundboard too!
Click the link below to schedule a quick call:
Click here to schedule a call in your calendar
Check out the wide range of services to help you attract and retain top Gen Z sales graduate talent. We can provide online sales training courses and graduate training programs via our sister company, Genzy Talent Academy, which specialise in training young talent for junior sales roles and fast-tracking their success.
If you are looking to recruit graduates for sales roles then please contact us. We will introduce you to our sales graduate recruitment specialist who we are proud to work with; we can provide a recruitment and training package for your new starters to save you time and accelerate the performance of your sales graduates.
Click the below to find out more about Genzy Talent Academy services:

For or full range of courses for new and seasoned salespeople visit our courses page: