How to Effectively Manage Generation Z To Encourage Sales Performance (infographic and self-analysis questionnaire)
18 August 2021
When we look back at how we were managed back in the 90's we will feel shocked, horror and occasionally laugh at what management style was adopted back then and how Generation Z would think if the same management style was adopted with them. We had to prove ourselves; it was hire and fire, and we were successful. However, the world has changed. Those old styles will not wash or work with Generation Z if you want to ensure they are motivated, committed and perform to their best ability.
This infographic provides the latest industry trends to ensure you gain the best results, manager and employee relationships with your graduates and Generation Z employees.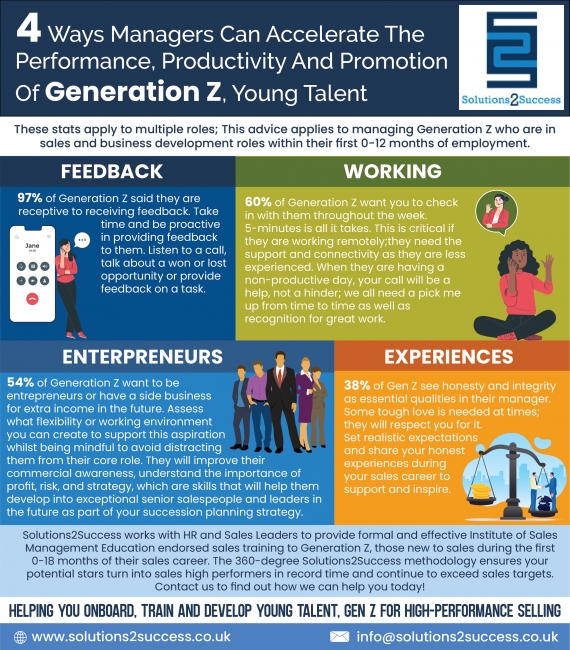 A quick self-analysis to help Leaders and Managers:
How often do you give feedback?
How do you deliver your feedback?
How do you respond or act when a person makes a mistake?
Do you understand the long term goals of each person? If they have an aspiration to run their own business, what do you have in place to support this?
Are you clear about your expectations and what you want to see with clear guidelines?
Have you clearly communicated how you want each person to work, the company culture, business etiquette, communication preferences etc.?
How do you deliver 'bad news'?
How do you support each person with training, support and coaching?
When or how do you gain feedback on your management style?
Who do you ask for feedback from?
What is the retention rate of your recruits?
How long is it taking for you to see a return on investment from those you recruit who are new to a role?
What formal training and support do you provide at the team and individual level?
Generation Z will choose a company that will help them grow and build their personal brand. Endorsed training will give you an advantage. Your personality and management style will also be a significant factor in their decision when choosing a company and the length of time they will stay.
If you want to attract and retain the best Generation Z sales graduate talent for business development or sales roles, then contact us to find out how we can help you set up your onboarding plan, sales training programs and promote your Institute of Sales Management endorsed sales academy.
Having a wealth of experience training sales graduates over the past thirteen years and with our own Gen ZY sales academy, we can help you. Whether you have one individual or a team, we can help you ensure you take your new sales recruits from zero to hero in record time whilst attracting top talent.
To gain some quick win-ideas, contact us for a free consultation to review your current processes and sales training programs or find out more. We are always happy to be a soundboard and offer an empathetic ear; other Sales leaders will be going through similar challenges to you.
Click the link below to schedule a quick call:
Click here to schedule a call in your calendar
Check out the wide range of services, consultancy, support ,online sales training courses and graduate training programs provided by Genzy Talent Academy, which specialise in training young talent for junior sales roles and fast-tracking their success.
Click the below to find out more:

For a wide range of courses for new and seasoned salespeple click the below: